The first "Barbie" teaser trailer has arrived to disrupt our expectations of a movie based on a toy — much like Barbie apparently disrupted the baby doll industry.
Clocking in at just over a minute, Warner Bros.' tease introduces audiences to Margot Robbie's embodiment of the famous Mattel doll with her towering figure, winning smile and knowing wink.
The teaser, narrated by Helen Mirren, takes a page out of Stanley Kubrick's "2001: A Space Odyssey," opening with the 1968 movie's iconic score and a scorched-earth world of young girls playing with old-fashioned baby dolls. That is, until the arrival of Margot as the swimsuit-clad monumental fashion doll in all her plastic glory.
After that, we get a glimpse of the very pink cinematic world built by director and co-writer Greta Gerwig, with peeks at the star-studded cast in action — and possible musical numbers — including Ryan Gosling as Barbie's longtime beau Ken, a pink jumpsuit-wearing Issa Rae and a twist-dancing Simu Liu.
The live-action film, set to hit theaters July 21, also stars Will Ferrell as Barbie's brother and CEO of Mattel, as well as America Ferrera, Kate McKinnon, Ncuti Gatwa, Michael Cera, Alexandra Shipp, Hari Nef, Emerald Fennell and Emma Mackey, among others.
The Oscar-nominated Gerwig, of "Lady Bird" and "Little Women" fame, wrote the highly buzzed-about script with her life partner and fellow filmmaker Noah Baumbach. The project has been in the works for nearly a decade and at one point was helmed by "Juno" and "Jennifer's Body" writer Diablo Cody, who bowed out because, she told Screen Crush, she was "literally incapable of writing a Barbie script." . Oscar winner Anne Hathaway and actor-comedian Amy Schumer were each eyed for the titular role too.
Gerwig's version is rumored to feature different versions of Barbie, with several of the stars enlisted for the project tapped for the alternative roles. The movie began production in London earlier this year and wrapped in July. First-look photos featuring Robbie and Gosling in character last June sent the internet into an obsessive spiral. Meanwhile, paparazzi images of the brightly costumed pair roller skating while shooting in Venice Beach didn't go over as well.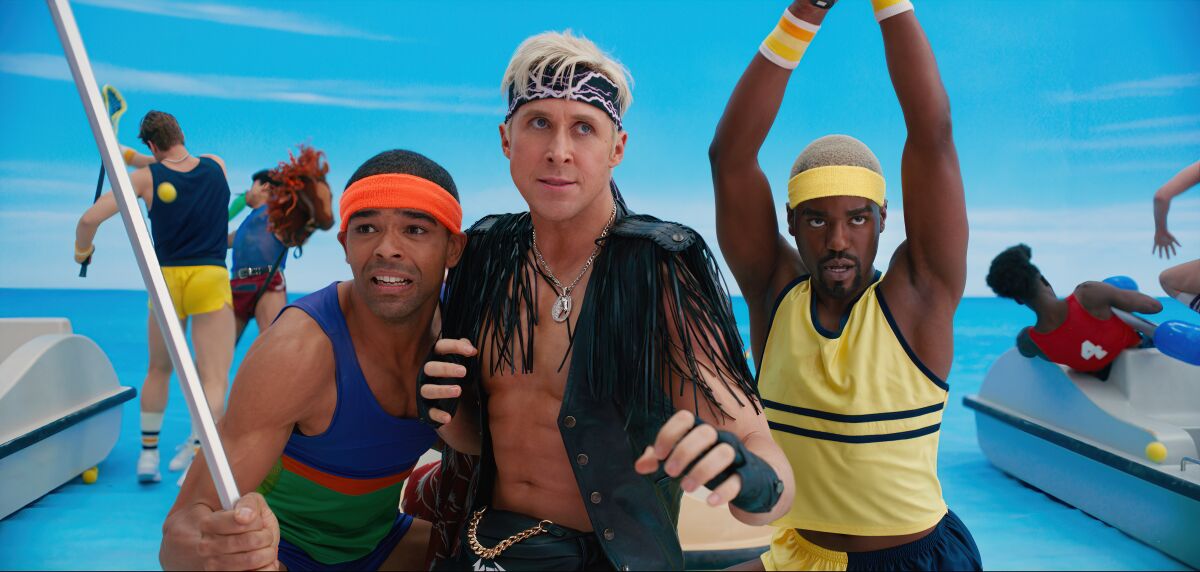 Plot details have been kept secretive — the current IMDb synopsis reads "Barbie lives in Barbie Land and then a story happens" — but the script has been a huge draw around Hollywood. Robbie, whose character made her debut in 1959, told the Hollywood Reporter in 2020 that the film is hoping to subvert expectations.
"We like the things that feel a little left of center," the "Babylon" and "Amsterdam" star said about her production company that took on the project.
"Something like Barbie where the IP, the name itself, people immediately have an idea of, 'Oh, Margot is playing Barbie, I know what that is,' but our goal is to be like, 'Whatever you're thinking, we're going to give you something totally different — the thing you didn't know you wanted' … Can we truly honor the IP and the fan base and also surprise people? Because if we can do all that and provoke a thoughtful conversation, then we're really firing on all cylinders."
"Barbie" is produced by Mattel Films, which gave Gerwig access to the decades-old Barbie archive, Heyday Films and Robbie's LuckyChap Entertainment banner with Tom Ackerley.
Ferrell has described the forthcoming film as the "ultimate example of high art and low art."
"It's a loving homage to the brand and, at the same time, couldn't be more satirical — just an amazing comment on male patriarchy and women in society and why Barbie's criticized and yet why every little girl still wants to play with Barbie," he told Variety last month. "Boy, when I read it, I was like, 'This is fantastic.'"